Brown Pocket Rot of Sitka Spruce
Neolentinus kauffmanii (A. H. Smith) Redhead & Ginns
(= Lentinus kauffmanii A. H. Sm. in Bier and Nobles.)
Basidiomycotina, Agaricales, Tricholomataceae
Hosts:Neolentinus kauffmanii has been reported in B.C. as a butt and trunk decay in Sitka spruce. In Washington and Oregon it has also been found on western hemlock.
Distribution: This fungus is restricted to the range of Sitka spruce (i.e., west of the coast mountains).
Identification: The fruiting bodies are small pinkish-tan mushrooms that usually form on exposed advanced decay on fallen or split dead trees (Fig. 16a). Pockets of advanced decay are sharply delimited by apparently sound wood but adjacent pockets may occasionally coalesce to form a continuous column of decay (Fig. 16b). Within the pockets, the wood breaks down into small brown cubes that are soft and friable in texture. (Fig. 16c). In advanced stages, decayed wood crumbles away completely leaving well-defined hollow pockets (Fig. 16d).
Microscopic Characteristics: Hyphae in the context of the fruiting body of two types: generative hyphae 3-10 x 25-160 µm, clamp connections, skeletal hyphae 3-5 x up to 400 µm, gradually tapering. Basidiospores short cylindric, hyaline, thin-walled, IKI-, 4.5-6.7 x 2.5-3.5 µm. Growth in culture moderate to slow, mat white, becoming pinkish-cinnamon buff, laccase negative, clamp connections absent from margin. Nobles: 1 4 8 32 36 44 45 53 55.
Damage: Losses of about 1-2% of gross merchantable volume have been attributed to Neolentinus kauffmanii in B.C. It frequently occurs in scattered pockets in the high quality butt log often necessitating the rejection of these logs for lumber production. The amount and pattern of decay visible at the end of a log seldom provides a reliable indication of the extent of internal defect.
Remarks: Decay caused by N. kauffmanii cannot be detected in standing timber as the fruiting bodies form only on infected wood exposed to air. The fungus is known to survive in Sitka spruce logs that have been on the ground for more than 50 years.
References:
Bier, J. E. and M. K. Nobles. 1946. Brown pocket rot of Sitka spruce. Can. J. For. Res. 24: 115-120.
Redhead, S. A. and J. H. Ginns. 1985. A reappraisal of agaric genera associated with brown rots of wood. Trans. Mycol. Soc. Japan 26:349-381.
Smith, A. H. 1975. A field guide to western mushrooms. Univ. of Michigan Press. Ann Arbor, MI.
---
Figures
Click on any image to see the full size version.
Press "Back" on your browser to return to this screen.
---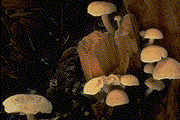 Figure 16a: Fruiting bodies of Neolentinus kauffmanii.

 Figure 16b: Characteristic brown pocket-rot symptoms of N. kauffmanii in Sitka spruce.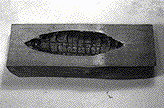 Figure 16c: Characteristic brown pocket-rot symptoms of N. kauffmanii in Sitka spruce.

 Figure 16d: Characteristic brown pocket-rot symptoms of N. kauffmanii in Sitka spruce.