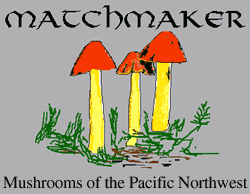 Many illustrations need confirmation.
Do not use this program to determine edibility.
I have read and agree to the disclaimer and copyright information.
This web version of Matchmaker for Mushrooms of the Pacific Northwest (MMPNW) (updated August 2005) was created by Alan Thomson, Wendy Alexander, Norman Sim and Tony Trofymow of the Canadian Forest Service with suggestions from Ian and Eli Gibson, the authors of the original and revised versions of the MMPNW program. Copyright for the .jpg illustrations in this site belong to photographers noted with each illustration.

The original non-profit program was designed for CD-ROM and is available from Ian Gibson for a nominal fee to cover materials and postage, at .